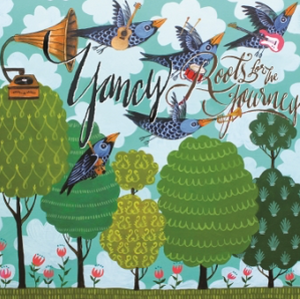 Soothing • Worshipful • Scripture...Acoustic Music by Yancy

Give a gift of music that will plant eternal seeds in the hearts of those who listen.
• BABY DEDICATIONS
• FIRST TIME GUESTS
• VOLUNTEER APPRECIATION
• FAMILY MINISTRY TOOL
What started as a lullaby album for Yancy's son with songs all based on scripture, soon became a really nice, relaxed worship experience. The music, organic, unplugged and simple featuring upright bass, glockenspiels and cello in addition to acoustic guitars and piano, nicely accompaniments the eternal Word of God. These songs have the power to strengthen the faith of all Christians, young and old.
 "Taking key scriptures and truths that I wanted to pass on to my son and make sure he knew and understood the direction and answers these scriptures provide us was important. As I worked in the studio, I realized that with how the music was shaping up and the fact that the Bible is true whether you're an infant or a grown up these songs had more potential. Already when I meet people in my life that are facing big mountains, fears or need answers, I've been able to use these songs as a way to help strengthen their faith and help them meditate on what God's Word says." – Yancy
This music is something that adults are going to love. It's the perfect soundtrack to be played in nurseries and calming rooms of the church. A great gift to new parents and a wonderful way to partner with the families in your church.
The 12 song CD includes: The Joy, Safe, Creator, Hope, His Eye Is On The Sparrow, Trust, Healer, White As Snow, Our God Reigns, Call, No Other Name, I Don't Want To Go
 "I believe its never too early to start instilling the Word of God in our children!" -Misti
 "We have given it at baby dedications & to our teachers. The combination of Scripture & peace-filled melodies Is healing for the soul." -Dawn
 "The response has been overwhelming! Taken straight from Scripture, these beautiful melodies will stay with the children for years to come." -Katherine
 "I buy them in bulk because I always want one on hand for new moms & for stressed out moms." -Amanda
 "Crying through every song. The difference between yours and others is the Holy Spirit. The anointing on you." -Diana
 "Your music is NOT just for children! It ministered to me and my family in a huge way." -Brooke
 "My heart and spirit just leaped for joy." -Cheryl
 "This music has been a life saver! Thanks for bringing peace into our home." -Brad
 "When my heart is longing for peace that passes understanding, I find these songs coming to mind as I pray." -Jennifer
 "We are in the final days of nesting and your music sets the right mood in the house." -Shane
 "We use Roots for Baby Dedications…as words of blessing for their kids." -Aaron