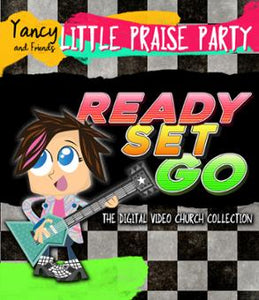 A Super-Sized NEW Worship Resource For Young Children. This beloved music is perfect for preschool and early elementary grades. Each song is filled with the right bite-size piece of lyric, melody and repetition. Little Praise Party is about inviting young hearts to a relationship with Jesus by beginning a foundation of theology through the discipline of worship. Yancy wrote these songs and crafted these arrangements with an intentional focus to this phase of life. Nominated for a Dove Award, the "Ready, Set, Go" bundle includes 8 new songs for year round worship and singalong fun including a songs for Easter, Mother's Day & Christmas. Songs include:
Ready, Set, Go 

As For Me

Made In the Image  

Hungry and Thirsty feat. Funny Man Dan

Hungry and Thirsty

He's Alive, He's Alive (Easter)

I Love My Mom (Mother's Day)

Not About the Weather (Christmas)
USB & DVD Bundle includes:
Cartoon Music Videos that features lyric line across the bottom of the screen.

Audio in 3 formats  (Full mix, Sound track and Split Track files)

Lyric Sheets

Coloring Pages

Motion Tutorials

Worship Leader Trainings

Group Viewing 

Permissions
 Little Praise Party is filled with songs kids love and adults value!
Get the best pricing by purchasing the bundle vs. buying songs a la carte on other platforms. You can save even more by ordering the "Out Of This World" Bundle too. Choose the option for both bundles in the pull down button above.